Moderators: sfamiler, dmartin151, RollinFast, chargerman6904
---
---
Classic Muscle

Posts: 1490
Joined: Wed Sep 19, 2007 5:07 pm
Location: Keystone Heights Florida
Cool finds they rock
---
Those are so cool Dave!
I didn't even know they did those.
They made me think of the Hot Wheels ones that were done several years ago.
I can't remember exactly but I think it was a diecast car and a mini guitar.
Possible they were done in 1/43 or 1/24 scale.
Anybody else remember these.
I can't think of the name of them.
Maybe rockin hot wheels or something like that.
Rod
---
WfoDnf
Here's what your thinking of Rod, this is a 1/24 scale version....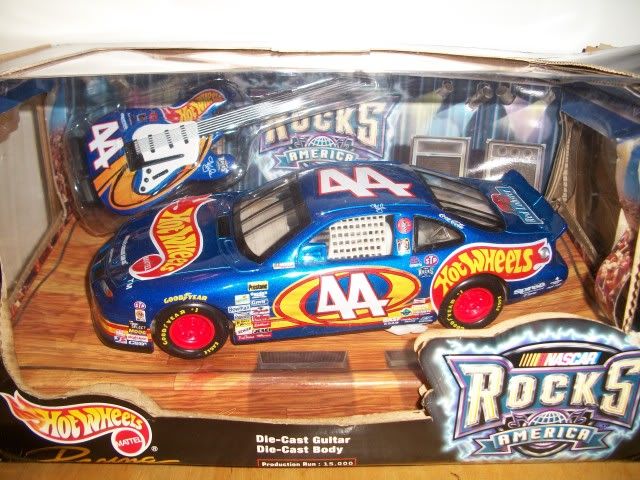 ...they also did them in 1/64 scale which I have some of those also but I don't know which box they're in down in the basement
. They did these back in the late 90's I believe when NASCAR diecast was still a popular collectible.
---
Classic Muscle

Posts: 1490
Joined: Wed Sep 19, 2007 5:07 pm
Location: Keystone Heights Florida
---
---
Yes...... those are the ones I was thinking of.
Thanks for the pix guys.
You brought back some memories with these.
I used find a lot of this kind of stuff at the Kay Bee store in town where I used to live.
This was a stand alone KB not one of the mall stores.
It had another name with it but I can't remember it right now.
It was kind of like a liquidator of 2 or 3 year old diecast.
I used to find a lot of older racing stuff that I never saw in the regular stores.
It always made me wonder why they would liquidate stuff that never made it to the shelf before.
If I could have found it at the regular store, I would have bought it.
I guess this is what we all have complained about with the bad distribution of the different waves of diecast.
The stores would get too much of the 1st couple of waves and never get any more of the later waves.
Sometimes the manufacturer would drop the line because of poor sales and never finish the last waves or make very few of them and make it impossible to find.
I would hope that eventually they will figure out how to do it right.
I always said that if one of the stores could get it right, they would clean up on the competition.
Rod
---
---
---
Who is online
Users browsing this forum: No registered users and 1 guest